Marketing Your Business In The Midst Of Covid-19: 5 Tips To Stay Afloat
If you're like many business owners out there, the coronavirus pandemic has rocked your world. According to a SHRM study, 62% of small businesses say they have experienced a decrease in revenue since the start of Covid-19. To deal with this change in cash flow, you may find yourself having to change up other processes for the time being, such as your marketing strategies.
To pivot your marketing amidst the coronavirus and help keep your business thriving during trying times, use these five Covid-19 marketing tips.
1. Reassure Your Customers
Your customers are your business's #1 fans. Without them, you wouldn't be the successful business you are today. In a time with so much uncertainty, you need to reassure your customers that you're there for them and that your business isn't going anywhere.
3. Kick Things Up On Social
Even before the coronavirus started, social media was king. As of 2019, a whopping 79% of Americans have social media profiles. And, that number continues to grow as more people go virtual during the pandemic.
To market your company in the middle of coronavirus, take your strategies to social. The truth is, this coronavirus age is prime time to promote your business offerings online.
5. Improve Your Online Presence
With the coronavirus in full swing and more and more people hopping on the online bandwagon, there's no better time to work on your business's online presence. Having a strong online presence can help you build your brand and gain credibility to attract new customers. Plus, it makes your business more readily accessible to customers so they can find out more information about what your business has to offer.
For all five tips-
https://www.forbes.com/sites/mikekappel/2020/07/22/marketing-your-business-during-covid-19/#35b9893f5c92
Covid video update 9/24/20 Update- TWO PANDEMICS RAGING NOW! – COVID-19 vs False claims & Greed, Vaccines for both?
In this week's show, we announce the roll-out of germwashing.com. This is an industry watchdog for false and misleading cleaning claims. Check the site out to see the latest false claims or post a tip. www.germwashing.com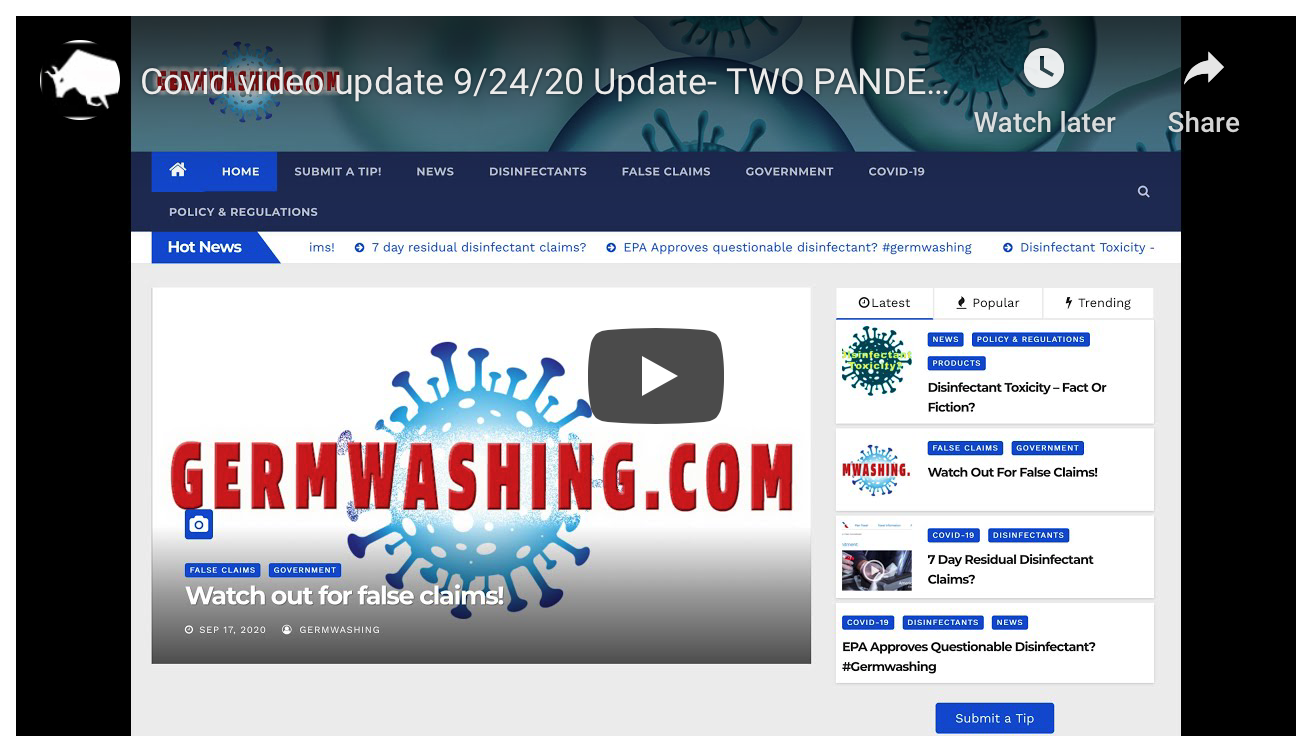 Have a great day and an even better sales week and Stay Safe!

Scott Jarden